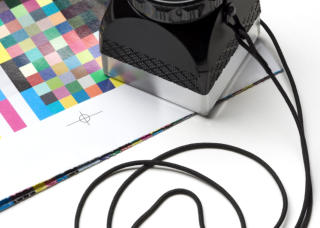 Paper Sizes
A's, B's and C's
Paper is .. well paper.. right? Nope..! Paper, comes in a huge variety of sizes, weights and finishes, all
have their own feel, look etc. which in turn influences how they are used. To try and give some sort of
standardisation, pretty much all European countries use what we loosely call the A, B and C series of
sizes. Most of you are already familiar with A4 - its what most businesses use for a letterhead and
measures 210mm wide by 297mm high. An A3 page, while the number is lower (3 rather than 4) it is
actually TWICE the size of an A4 sheet at 297mm wide by 420mm high - and so it goes for A2 being
bigger than A3, A1 larger than A2 and so on.
Conversely, A5 is HALF the size of A4 at 148mm wide by 210mm high and A6 is half the size of A5
So it's worth considering just how large or small you want your finished image/design to be and
discussing this with your designer - it can make a huge difference!
For more on paper sizes, click here:
Using Colour
Getting the right colour profile for the finished job
So, you've spent days designing your leaflet on your computer, the colours, nice bright, almost neon,
look fantastic on screen and have fantastic impact so the finished printed leaflet will look just as eye-
catching.. right..? Probably not.. unless you're using the right design software your colours are most
likely to be RGB. This stands for Red, Green, Blue and is how we see colour on screen - so TV, monitors
etc. RGB is fine for use on the internet for websites as screens are not able to show as many subtle
colours as print can, BUT because a screen tends to be lit, the colour appear to be more vibrant.
When using colours for print, most designers should/will use CMYK or the four process colours of Cyan,
Magenta, Yellow and Black in various percentages combined to achieve the final colour. Using these
allows the flexibility of millions of colours and subtle tones, giving far more depth. However its worth
noting that CMYK colours can only be reasonably represented on a specially calibrated screen - only
then will you get a better idea of what the finished print job will look like.
In short, you only ever use RGB if you're designing something that will be seen on screen i.e. for
websites etc. these colours

WILL NOT

reproduce correctly if used in print. If using your own photos for
print, these will need to be converted to CMYK to print properly.
CMYK should be used for all printed materials and if you're in doubt over colours, ask to see a printed
proof. For more information about colour space and profiles, you can Google it, but be warned, it can
get complicated and is not always the easiest to understand!
Image Quality
Resolutions for Print and Web
Getting an image to look clean, clear and sharp is not as easy as you may first think. For instance, you're
using an image on your website that is nice and bright, doesn't take long to download - can you use the
same image, take it from your website and use it on your printed leaflet?
In short NO.. this is because images used for web tend to be lower in resolution (dpi or Dots Per Inch)
resulting in smaller files sizes and faster download speeds - ideal for use on the internet. To get a sharp
image in print, generally the resolution needs to be higher at around 300dpi, but this means a bigger file
size - however as its not being used on the internet, the bigger file size doesn't matter quite so much,
whereas the higher, better resolution does.
You can see that simply assuming 300dpi for every project is a mistake. But do remember that you can
rarely make the mistake of having too high a resolution. However you can have too low a resolution and
end up with pixelated (blocky / dotty) images. So try to lean towards too much detail rather than not
enough.
Using Stock or Royalty Free Images
Why paying a small fee is better than paying a big fine!
So many people nowadays believe that using an image found on a search engine is perfectly fine and
has no consequences - hey its off the internet, so it must be OK..?
The truth is, that it's not OK, it's THEFT. Taking and using someone else's work without their permission
is not just wrong, it's illegal and if caught you can end up paying serious fines for doing so - its called
breach of copyright and shouldn't be taken lightly.
A way to avoid costly court cases and fines is to use stock photo libraries like iStockphoto, Shutterstock,
Corbis, Dreamstime to name just a few. Here there are millions of shots that you pay just a small fee to
use (license) the picture and this allows you to carry on without the fear of breaking the law. The added
bonus is that most of these shots are taken by professionals, so are going to be much better than that
scratchy image you found on the search engine! In short, BE PROFESSIONAL, it's cheaper in the long run.
USEFUL STUFF
NEWS AND INFORMATION THAT WILL HELP YOU, YOUR DESGINER AND THE PRINTER
The future belongs to those who prepare for it today
- Malcolm X



ADDRESS
Head Office
Elektra Designs
St. George's House
93 Stratton Way, Barron's Court
Cwrt Herbert, Neath Abbey
SA10 7AS UK
All Rights Reserved - Elektra Designs 2017




Need a Graphic Designer?
Joe Dickens joins Business Butler's panel of experts
Recently, Joe Dickens, founding consultant of Elektra Designs, joined the panel of select experts
at Business Butler,
enabling them to tap into the decades of
graphic design, print and branding knowledge that he has to offer for all of their clients in Cardiff, Swansea, Bridgend and across the South West.
Click on the video below to get to know him better, hear more about what he brings to the projects he takes on and how his clients benefit from his diverse
experience.